MindBody Med offers pain-relieving massage therapy in Seattle's Ravenna neighborhood. We believe in treating the whole person and approach healing with an understanding of the body's interconnectedness. You're in good hands with our experienced team of massage therapists.
Massage Therapy For The Whole Body
The idea of "interconnectedness" is a simple one. No ailments or pain happen in a vacuum or on their own. If you are experiencing neck pain, that pain can trigger or cause pain in other parts of the body, which means those areas need to be worked on by an experienced massage therapist.
When you speak with an experienced therapist at MindBody Med, you will receive customized and attentive care from one of Seattle's best. You can choose from one of several different therapeutic options.
Holistic Pain Relief
According to research by AMTA (American Massage Therapy Association), 75% of clients seek chiropractic massage therapy for medical or health reasons. In particular, people are seeking pain relief as they become increasingly wary of pharmaceutical options. When you come in for an appointment with us, let your therapist know about any health issues before we start.
Having a full picture of your health helps our team know which modalities and practices to include, or avoid in your individual session. This helps us to better give you the holistic pain management you desire. We also offer massage to help recover from injuries. Some treatments at MindBody Med will need to be repeated at intervals for maximum relief and effect. We look forward to showing you how effectively this drug-free method can help to manage your pain.
Deep Tissue Massage
Deep tissue massage connects your body from crown to toe. This brings a sense of relief to every area, not just your noticeable problem areas. It's this very idea of interconnectedness that makes this therapy so effective at treating pain, injury, and even chronic illness.
Massage For Healing & Health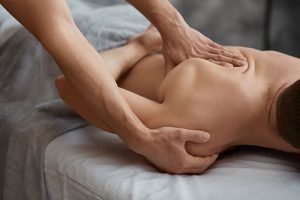 The benefits of massage therapy apply to a variety of conditions. From back pain to insomnia, it can help restore balance and health to the body. You might come in for sports injury massage, but find it also gives relief for your anxiety; it's that idea of interconnectedness coming into play. While this is hardly a conclusive list, here are some of the common conditions that can be treated:
Temporomandibular Joint (TMJ) Pain
Myofascial Pain Syndrome
Soft Tissue Injuries
Fibromyalgia
Book Healing Massage Therapy In Seattle
At MindBody Med, we believe in the healing power of massage and its effect on the whole body. Health and wellness with a holistic approach is the standard of care for all of our practitioners. We look forward to helping you along the path to healing, health, and wellness. Contact us today to schedule your appointment at our Seattle, WA location.