Kinesio (short for kinesiology) is a modality that provides both pain relief and strengthening of body systems and muscles. Kinesio tape therapy is extremely beneficial for a wide variety of physical ailments.
If you're looking for a local Kinesio taping practitioner, look no further than MindBody Med in Seattle.
What Is Kinesio Taping?
Kinesio taping is a treatment where a therapeutic tape is strategically applied to parts of the body to increase healing and reduce pain. Athletes often use KT tape for various injuries or trouble spots.
Treating Athletes & So Much More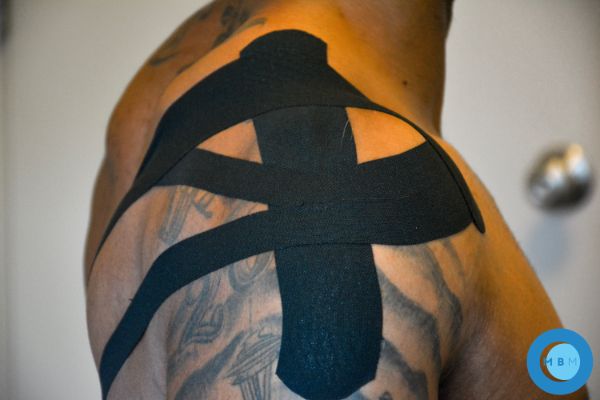 It's not uncommon to see runners with brightly colored strips of tape on thighs and knees at the starting line of a race. However, kinesiology tape therapy is for anyone who experiences pain or injuries or needs to improve posture. Just a few of the uses of KT tape include:
Back & Neck Strain
Pregnancy Support
Plantar Fasciitis
Knee Pain
Tendonitis
TMJ
How Does Kinesio Tape Work?
Therapeutic tape works by lifting the skin and fascia away from the problem area. This reduces pressure and discomfort immediately. With KT tape, muscles are supported, and healing can begin.
Simply Therapy, So Many Benefits
Benefits, however, are minimal without the proper tape and technique. You should always consult a professional, like your knowledgable chiropractor at MindBody Med, before beginning Kinesio tape therapy.
This fantastic therapy has many benefits.
Increased Blood Flow
Lymphatic Drainage
Improved Posture
Faster Healing
Muscle Strength
A Natural Healing Technique
KT taping offers incredible, safe, gentle, and noninvasive healing. The tape itself is flexible and allows full range of motion, and even lasts through sweat and showering for several days before needing to be reapplied.
Encouraging Mind & Body Health
Kinesio taping affects receptors within the somatosensory system, a part of the sensory nervous system. There is growing evidence that KT tape may even offer neurological benefits, which is still being explored by researchers.
For those looking for drug-free options, Kinesio tape, along with other natural therapies, may speed up healing.
Kinesio Tape Therapy In Seattle
At MindBody Med, we offer Kinesio tape therapy in Seattle, along with chiropractic care, massage, and other personalized wellness options to aid you in healing. Contact us today to find out if KT tape is the right choice for you. We would love to consult with you on your health and wellness goals.